Hi all,
Happy New Year! I hope you all had a great Christmas.
I have updated the Repertoire page to include nearly all of the repertoire that we will prepare for the Festival of Voices in July. You will need to sign into the website to access them. Please print out copies to bring to our first rehearsal on February 3rd. A few of the pieces have been performed in previous years by Choirbolical, so a few of you may already have copies of some of the music. I will work at having part recordings done before we begin rehearsals again.
In terms of the Tasmanian Festival of Voices, I have received 19 'yes' responses, with singers from each of the parts, so we are definitely confirmed to attend the festival from July 9-12. WOOHOO! I'm really excited. A list of names is included below. There is always the possibility to have more join us, so spread the word (especially to male singers!). There also might be a couple more Choirbolical members who want to come, but who aren't signed up to the website. We can confirm again once rehearsals start.
You are welcome to purchase flights/accommodation at any time if you find a great price, otherwise I will put together a sheet of information to distribute in rehearsals. I've just spoken to the Festival Director, who says that there is an accommodation deal that is yet to be publicly announced, but for any participants of the FOV, Travelodge Hobart is offering rooms for $90/night. These are in the very centre of the CBD, walking distance to the festival activities, and available at this rate only to Festival Participants. If you want to take advantage of this price, you should simply call Travelodge Hobart and request the price.
I might have mixed up some of the women's parts, but just let me know if your name is missing completely.
Soprano
Ritamay
Chris
Dianne
Dinah
Alison
Maxine
Marion
Michelle
Alto
Debra (+John)
Margaret
Rebecca
Helen
Pam (+Rod)
Judy
Tenor
Kent
Joe
Bass
Brian
Rob
Andrew
To get you in the mood for Tasmania, here is a picture of the Aurora Australis that appeared in Hobart on Jan 7th, 2015.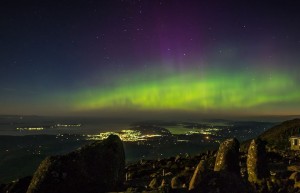 See you on Feb 3rd
Astrid