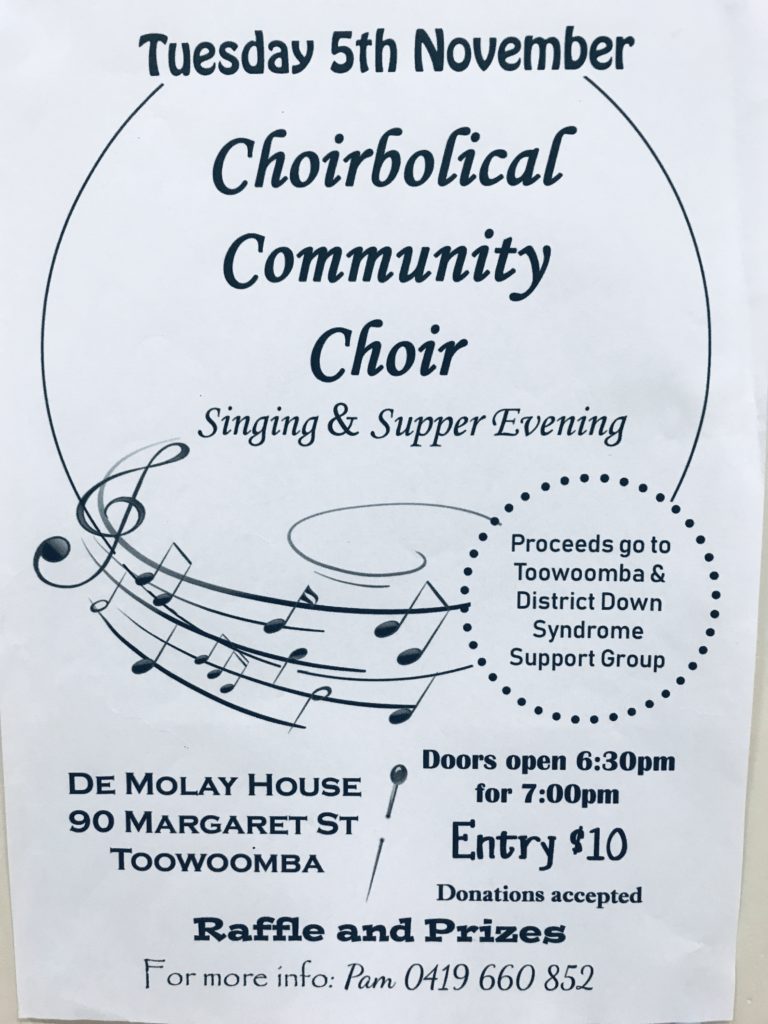 All welcome to join us on Tuesday for our end of year concert. Details in the flyer.
Parking is available at the back of the hall with entry up the stairs.
Cakes/slices, some gluten free, cut ready to serve, labelled, brought to the hall early, given to Rebecca, Charlotte or Rineke in the back room near the kitchen or  the front room we used last year.
Raffle tickets will still be on sale until the start of the concert. See Ann Maree and Michael
Choir members if possible, wear blue and white with touches of colour; sit at either side of the hall. (Front rows will be reserved for young performers.)
We hope to sing from the stage with Astrid helping us get organised
All help with cleaning up.
It's going to be lots of fun for everyone and a wonderful gesture of support to the Down Syndrome Support group.
Concert Program:???Tues 5 Nov. 2019
(Raffle tickets sold til 7pm)
7.00:??– Welcome
– TDDSSG speakers
Kent and Loretto introduce Choir and Astrid and Matt 
7.15:?– ?Choirbolical
– Mother Earth
????– Halo
????– One Voice
????– Ya Basta– 
The Twirly Girlies– Four on the Floor– The Key of She– The Rainbow Choir– Voice Male– Noel Keller 
8.15:??Choirbolical
????– Adiemus
????– Last Rose of Summer
????– Yil Lull
8.25:??Raffle Draw
8.30:?? Final Thanks????? + Cake and Coffee